Security Awareness Programs & Computer-based Training
,
Training & Security Leadership
Higher $24.90-Per-Share Bid Comes 18 Months After the Cyber Awareness Firm's IPO

Michael Novinson (MichaelNovinson) •
October 12, 2022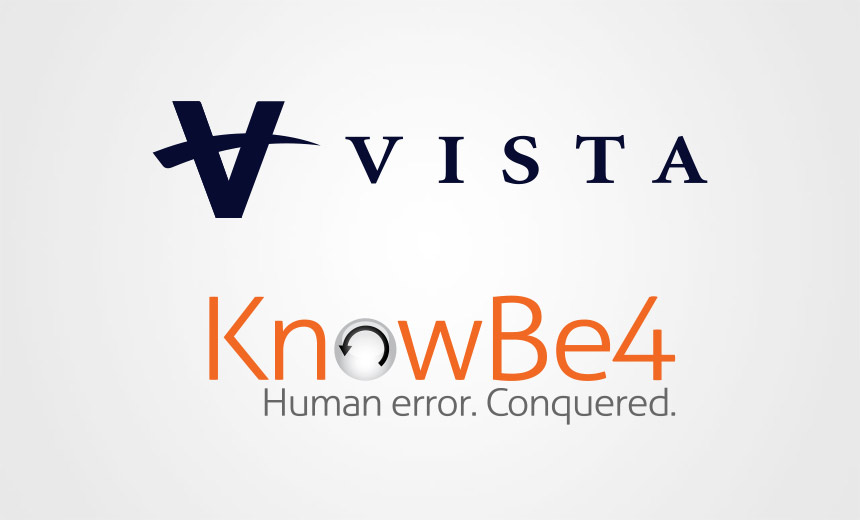 Vista Equity Partners and KnowBe4 have struck a deal to take the security awareness behemoth private for $4.6 billion in this week's second massive security acquisition.
See Also: Building a Secure IoT Deployment Using 5G Wireless WAN
The agreement comes after the Austin, Texas-based global investment giant upped its offer by $380 million, or nearly 4%, to $24.90 per share. Vista Equity first disclosed Sept. 19 a nonbinding proposal to purchase the 90.65% of outstanding KnowBe4 shares it doesn't currently own for $24 each, and the two sides agreed to move forward with the acquisition just 23 days later (see: Vista Equity Bids to Take KnowBe4 Private at $4.2B Valuation).
"Under Vista's ownership, we will have access to additional resources and support, which will help us achieve our goals and deliver enhanced value to our customers," KnowBe4 founder, Chairman and CEO Stu Sjouwerman says in a statement. "We look forward to partnering with Vista's team to continue empowering businesses worldwide to strengthen their human firewall."
KnowBe4's stock jumped $2.72, or 12.6%, to $24.31 per share in preliminary trading Monday, which is the highest the stock has traded since April 28. Vista Equity's offer represents a 44% premium to KnowBe4's closing price of $17.30 per share on Sept. 16, the last full trading day before Vista disclosed its initial bid for KnowBe4. The Vista-KnowBe4 acquisition is expected to close in the first half of 2023.
"As a significant investor in KnowBe4, we could not be more excited to take this next step in our journey together," Vista Managing Director Rod Aliabadi says in a statement. "We have long appreciated the work that KnowBe4 does in strengthening the human layer of cybersecurity through educating employees on how to identify social engineering and related cyber threats."
How the Deal Got Done
A special committee of nonemployee members of KnowBe4's board of directors engaged with Vista Equity and evaluated transaction alternatives, including remaining an independent publicly traded company as well as other strategic options. Following the process, the special committee and KnowBe4's board as a whole decided the sale to Vista was in the best interest of the company and its shareholders.
Vista Equity currently owns 16.4 million shares of KnowBe4 stock, or approximately 9.35% of the company's 175.7 million shares of outstanding Class A and Class B stock. That makes Vista Equity KnowBe4's third-largest shareholder, behind only venture capital firm Elephant – which owns 21.1% of the company's stock – and fellow private equity rival KKR, which owns 14.9% of the company's stock.
Elephant, KKR and Sjouwerman, which owns 2.6% of KnowBe4's stock, have agreed to vote all of their shares in favor of the acquisition by Vista Equity. Taken together, Elephant, KKR and Sjouwerman account for 83% of KnowBe4's voting power outside of Vista. The deal comes just 18 months after KnowBe4 completed a Nasdaq initial public offering that raised $152 million on a $2.6 billion valuation.
"As a trusted partner to enterprise software companies around the world, we make a point to invest in businesses that make a difference and have a demonstrated track record," Vista Senior Managing Director Michael Fosnaugh says in a statement. "We look forward to leveraging our deep understanding of the business to help Stu and his talented team address the human element of cybersecurity."
Capitalizing on the Economic Downturn
The proposal means Vista Equity has joined Thoma Bravo in capitalizing on the market downturn to buy publicly traded security vendors at a discount. Thoma Bravo has gone all-in on identity, agreeing Tuesday to purchase identity and access management vendor ForgeRock for $2.3 billion just two months after inking a deal to buy ForgeRock rival Ping Identity for $2.8 billion (see: Thoma Bravo Identity Push Continues With $2.3B ForgeRock Buy).
In August, Thoma Bravo completed its $6.9 billion buy of identity governance firm SailPoint. That same month, Thoma Bravo made several proposals to buy security AI vendor Darktrace, but talks were halted in September after the two sides failed to agree on terms. The only other financial buyer to execute a take-private deal is Turn/River Capital, which bought network management firm Tufin for $570 million.
Vista Equity's security footprint outside of KnowBe4 is somewhat limited; the private equity firm has invested in or owns a stake in Critical Start, Infoblox, Menlo Security, Ping Identity and Securonix. The firm currently owns nearly 10% of Ping Identity's stock, but Vista Equity's stake in the company will be eliminated once Thoma Bravo closes its take-private acquisition.
The firm owned Infoblox outright from November 2016 to December 2020, when it sold a 50% stake to Warburg Pincus in a deal valuing the network identity appliance provider provider at $3 billion. Vista Equity also led a $100 million Series E round for secure web gateway vendor Menlo Security in November 2020.
KnowBe4 Turns a Profit on Surging Sales
KnowBe4 has experienced massive growth in recent years, with sales expected to jump to at least $333 million in 2022, up 35.2% from $246.3 million in 2021 and 90.4% from $174.9 million in 2020. The company recorded a profit of $4.7 million, or $0.03 per share, in the six months ended June 30, 2022, improving from a net loss of $14.7 million, or $0.24 per share, in the first half of 2021.
"As current geopolitical events have indicated, the need for organizations to establish a strong security culture has never been more important," KnowBe4 founder Sjouwerman said last month. "We believe our current product portfolio, coupled with the release of new products planned for later this year, positions us very well to take advantage of the market's heightened focus on security."
The company in October purchased startup SecurityAdvisor for $80 million to identify and correlate human behavior-driven security alerts generated across each layer of the existing security stack. Seven months earlier, the company purchased security and privacy training company MediaPro for $37.9 million. All told, KnowBe4 made eight acquisitions between fall 2017 and fall 2021.
Nearly 83% of the company's $155.8 million in sales during the first half of 2022 came from North America, and the remaining 17.2% of the company's revenue was generated abroad. KnowBe4 employed 1,102 people in the United States and 264 people outside the U.S. as of Dec. 31, 2021, according to regulatory filings.