May 25, 2023The Hacker NewsBrowser Security / Tech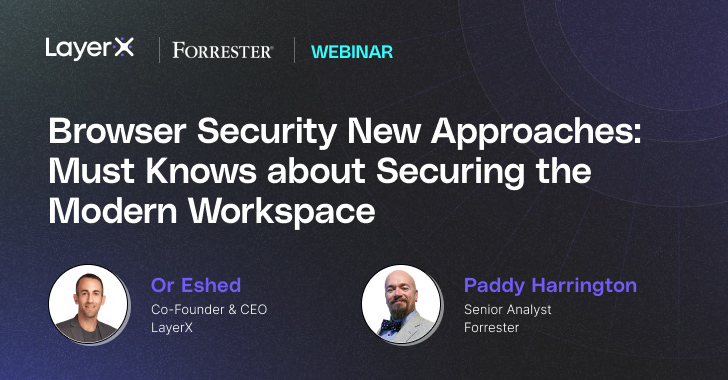 In today's digital landscape, browser security has become an increasingly pressing issue, making it essential for organizations to be aware of the latest threats to browser security. That's why the Browser Security platform LayerX is hosting a webinar featuring guest speaker Paddy Harrington, a senior analyst at Forrester and the lead author of Forrester's browser security report "Securing The Browser In The World Of Anywhere Work ".
During this webinar, Harrington will join LayerX CEO, to discuss the emergence of the browser security category, the browser security risk and threat landscape, and why addressing browser security can wait no longer. The webinar will also cover browser security solutions, explaining their pros, cons, and differences, and how organizations can work more securely in the browser. Additionally, the session will focus on using browser security solutions as a cost-saver for security teams.
Participants will also get an exclusive opportunity to learn from the 2023 Annual Browser Security Report authored by LayerX. The report's insights highlight that securing the modern endpoint means securing the browser, as apps move to web delivery.
Understanding the latest browsing risks and threats
This webinar is ideal for anyone interested in learning more about browser security, including security decision-makers, IT professionals, security analysts, and anyone responsible for protecting their organization's sensitive information. The webinar is also suitable for those who want to stay up-to-date with the latest trends and best practices in browser security. Whether you work in a small business, a large enterprise, or a government agency, this webinar will offer valuable insights into the importance of browser security and how to protect your organization from the latest threats.
Learning about browser security is crucial in today's digital landscape because web browsers are no longer used just for browsing favorite sites. They have become the primary tool for working in business applications, which creates new security challenges for the enterprise. With sensitive data being accessed through the browser, it is essential to ensure that users are who they say they are and that their actions within the browser cannot compromise the organization's security.
By understanding the latest threats to browser security, IT professionals and security decision-makers can adopt solutions that protect their organizations from unauthorized access, malicious content, and other security threats. Investing in browser security solutions can also help organizations save costs while ensuring a more secure and user-friendly web browsing experience for employees.
How to Choose a Browser Security Solution
In the webinar, guest speaker Paddy Harrington will discuss the current approaches to browser security, including endpoint security, enterprise browsers, RBI solutions and browser extensions. He'll dive into the pros and cons of each. For example, why endpoint solutions provide a simple line of defense, but they aren't always enough; whether having the enterprise browser as a separate browser is a good idea; and how browser extensions offer an ever-expanding feature set.
He'll wrap up by discussing the benefits of browser security and by offering security leaders a condensed list of recommendations about how to work securely in the browser and what they can expect from users.
Then, LayerX CEO will share exclusive insights from the annual report. For example, how many browsers are actually misconfigured (the percentage is higher than you think), why SaaS is a growing risk factor, and how many of your employees have a risky browser extension installed, to name a few.
Don't miss this chance to learn from the experts about browser security and the latest browser-based threats. Register today to reserve your spot and join the conversation between LayerX and Forrester guest speaker Paddy Harrington. Register here.