Aug 25, 2023The Hacker NewsThreat Detection / Artificial Intelligence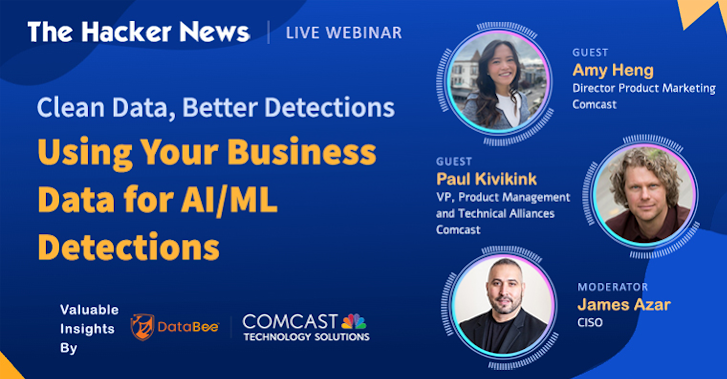 In today's digital landscape, your business data is more than just numbers—it's a powerhouse. Imagine leveraging this data not only for profit but also for enhanced AI and Machine Learning (ML) threat detection.
For companies like Comcast, this isn't a dream. It's reality.
Your business comprehends its risks, vulnerabilities, and the unique environment in which it operates. No generic, one-size-fits-all tool can capture this nuance. By utilizing your own data, you position yourself ahead of potential threats, enabling informed decisions and safeguarding your assets.
Join our groundbreaking webinar, "Clean Data, Better Detections: Using Your Business Data for AI/ML Detections," to unearth how your distinct business data can be the linchpin to amplifying your AI/ML threat detection prowess.
This webinar will endow you with the insights and tools necessary to harness your business data, leading to sharper, more efficient, and potent threat detections.
🔑 Key Takeaways from Our Upcoming Webinar:
Merging Worlds: Unravel the techniques to weave together security, IT data, and business context for a comprehensive view.
The Magic of Clean Data: Understand why organizing and standardizing data isn't just prudent housekeeping—it's the accelerator your threat hunting requires.
Smart Storage: Delve into strategies to refine data storage, ensuring zero duplication while upholding stellar data quality.
Why Attend?
Tailor-made Detections: Just as no two businesses are alike, threat detections should be bespoke. Capitalize on what sets your business apart—its data.
Overcome the Silo Challenge: Dismantle the impediments set by existing tools that compartmentalize data.
Future-Proof Your Business: With the constant evolution of cyber threats, leading with AI/ML detections ensures you're not merely reacting but proactively guarding.
Why Wait? Secure Your Digital Future Today! Cyber threats are relentless, and you should be too. Book your spot now and embark on the journey to AI/ML threat detection, reinforced by the unparalleled insights of your business data.